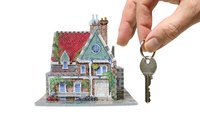 Making a down payment on a home is a pivotal step in the buying process. Down payments are usually brought to the closing of your home in the form of a cashier's check. This money cannot be borrowed and often must come from verified funds from the buyer. Down payment amounts vary, but typically range from 5 to 10 percent of the sales price of the home, with the remaining price being paid by financing. The more you can put down, the less you need to borrow.
Decide how much money you want to put down on a property. Depending on your price range, decide how much up front money you could bring to the closing table. This will tell you how much financing you need and will assist your mortgage professional in structuring your loan.
Get a cashier's check for the exact amount of your down payment. Ensure you double-check with your real estate attorney and/or title company on the exact amount just prior to closing.
Review the HUD settlement statement prior to closing to ensure your down payment amount is accurately reflected. Small errors during a closing, such as a misplaced decimal or transposed number, could cause problems for your closing.
Present the cashier's check when prompted. Most real estate attorneys and title companies will provide you with copies of your documentation before you leave the closing. Ensure a copy of your cashier's check is included with this paperwork.