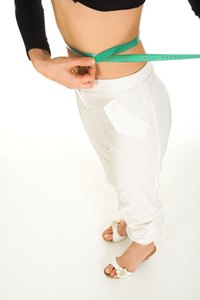 Losing weight is never easy. It requires knowing the calories in all the foods you eat -- as well as the total number of calories you consume every day. Although many fad diets are popular, too many represent poor nutrition or health risks. It's possible to enjoy what you eat, boost your commitment and lose 10 lbs. on a safe, nutritious meal plan. In fact, "Good Housekeeping" magazine says eating healthy food should taste good, so dieting doesn't seem like a chore. The following has been outlined by the magazine to introduce a tasty meal plan that will help you lose weight.
Limit your caloric intake. Consume no more than 1,300 calories per day to meet your goal. Weigh food on a scale or use a measuring cup to allocate vegetables and other foods. And calculate what you're eating with a calorie counter.
Eat a balanced diet that includes three meals a day. Healthy examples noted in "Good Housekeeping" include an English muffin, ¼ cup shredded cheese and ½ grapefruit for breakfast. A typical lunch includes a spinach salad consisting of 3 to 4 cups of spinach with a hard-boiled egg, 2 crumbled strips of bacon, five mushrooms, 1/3 cup croutons, ¼ cup feta cheese 3 slices of red onion. Dinner is limited to meals such as 5 oz. of boneless, skinless chicken, ¾ cup canned corn with peppers, ¼ cup salsa and 1 tbsp. of fresh cilantro, along with a small avocado salad.
Take a high-quality multivitamin and 250 to 400 mg of calcium every day to compensate for your reduced total nutrition.
Drink plenty of water, which helps your body slough off fat. Maximize your weight loss by drinking at least eight 8 oz. glasses per day. In addition, you can enjoy calorie-free beverages such as soda, seltzer or unsweetened black coffee or tea.
Exercise. Doing some form of moderate daily exercise will increase the efficiency of your meal plan. Walk or ride a bicycle at a comfortable pace for 20 to 30 minutes every day.