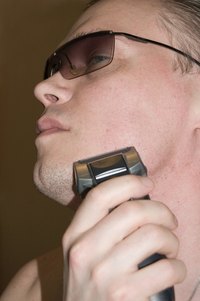 Ingrown hairs can be pesky roadblocks on the way to achieving smooth, hairless skin. Ingrown hairs are hairs that grow inside of the skin, and generally result from excessive shaving. Apart from simply being unattractive, the hairs can lead to skin inflammation. One easy home remedy for the removal of ingrown hairs involves the use of an aspirin mask.
Things You'll Need
Witch hazel
Alcohol
Aspirin
Let the ingrown hair grow for a while underneath the skin. This is to ensure that an infection doesn't occur. Avoid exfoliation for a while. A bump should appear over the ingrown hair, which signifies that it's ready for removal.
Create an aspirin mask, which is a blend of witch hazel, 70 percent alcohol and uncoated aspirin. Use 18 aspirins and blend them together in one bottle with 5.5 ounces of alcohol. Shake both together thoroughly. Put 2.5 ounces of witch hazel into another bottle and blend it with another eight aspirins, and mix them together. Give both bottles a minimum of half an hour to dissolve and settle. After the waiting period, combine both of the mixtures and shake them vigorously.
Apply the aspirin mask twice a day, once in the morning and then once at night. Before each use, shake the mask solution. Use a cotton ball to put the mask over the ingrown hair's bump.
Wash the mask off gently with warm water after approximately 10 minutes.
Keep applying the aspirin mask over the bump until the infection is entirely gone. Exercise caution. If any signs of skin irritation show up, such as swelling or redness, stop using the aspirin mask immediately.
Remove the ingrown hair with tweezers that are sterilized, after the infection has totally cleared. Softly get a grip on the hair and then pull it out gently. After the hair has been removed, thoroughly cleanse over the area with a moistened cotton ball.