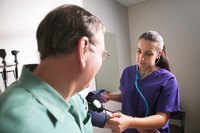 Too-high low-density lipoprotein -- one type of cholesterol -- is one of the primary risk factors for heart disease. High cholesterol can be genetic, but it is often caused by an unhealthy diet, lack of exercise and other lifestyle factors. In addition to changing your diet and exercising more, your doctor may recommend a fiber supplement that contains a certain type of fiber called soluble fiber, which helps lower cholesterol. Metamucil is one brand of this type of supplement. Always consult your doctor before using Metamucil.
Soluble Fiber Attracts Cholesterol
Metamucil is composed almost entirely of psyllium husk, a natural fiber grain that is 60 percent to 70 percent soluble fiber. Like insoluble fiber, the other primary type of dietary fiber, soluble fiber is not digested in the body. It travels through your body and is excreted in waste. However, when it comes into contact with fluid in your stomach, soluble fiber transforms into a gel-like consistency. As it moves through your digestive tract, it attracts cholesterol molecules and carries them out of the body before they can be absorbed into your bloodstream.
How to Use It
Metamucil and other psyllium fiber supplements come in several forms -- powders, wafers, capsules and bars. The powders must be mixed with water or other liquid and then consumed immediately. The capsules, bars and wafers should also be consumed with a full glass of water because soluble fiber needs water to function optimally. You can take Metamucil up to three times daily at any time of day. Follow the instructions on the package carefully, and determine proper dosage along with your doctor.
How Much Fiber You Need
According to the U.S. Department of Health and Human Services, each daily 5- to 10-gram increase in your soluble fiber intake can help lower your LDL cholesterol by 3 percent to 5 percent. The Institute of Medicine recommends adult males get 38 grams of total fiber each day and adult females get 25 grams of fiber each day. One serving of Metamucil powder, which is 2 rounded teaspoons, provides 6 grams of total fiber, including 5 grams of soluble fiber. Each packet of wafers provides 5 grams total fiber and 3 grams soluble fiber; five capsules provide 2 grams total fiber, all of which is soluble fiber; and the bars provide 4 grams total fiber and 3 grams soluble fiber each.
Considerations
Start with a small dose when you begin using Metamucil, and gradually increase your dose. Too much fiber all at once can cause stomach upset including gas, abdominal pain and constipation or loose stools. Drink plenty of water with the supplement and throughout the day to prevent constipation. Psyllium fiber can affect the absorption of medications you take, so take your fiber supplement at least one hour prior or two to four hours after you take your medications. Some people may have an allergic reaction to psyllium, with symptoms including difficulty breathing, difficulty swallowing and rash. People with kidney problems should speak to their doctor before taking psyllium supplements.