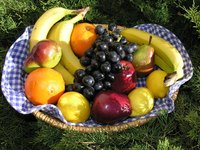 To function properly, a person's brain needs energy and nutrition. About one-fifth of the oxygen, nutrients and energy consumed by a person go directly to the grayish-colored brain, which is primarily composed of fat and water and made up of about 100 billion brain cells called neurons. A key function of neurons is to transmit and receive information. Proper nutrition enhances neurogenesis, the process of generating new brain cells. Water, good fats, protein, carbohydrates and micronutrients help produce more neurons in the brain.
Eat foods that contain good fats. Good fats are necessary to keep the brain cells functioning well. Fat in the brain helps with energy production and water storage. Fish, nuts and seeds, as well as dark leafy vegetables, are excellent sources of good fats such as omega-3 fatty acids. Corn, safflower oil and borage oil are good sources of omega-6 fats. Avoid trans and saturated fats in your diet. They pose a threat to the brain as they can clog up the circulation system, which needs to stay clear for optimal oxygen flow and to move wastes away from the brain.
Eat foods rich in essential amino acids. Amino acids are an integral part in the creation of neurons. They come from protein and they build the brain. Protein is an important source found in turkey or milk, as well as in almonds, avocados, bananas and meat.
Sugar – or glucose – provides an energy boost, which is good. However, many people consume excessive sugar, which is not healthy. We need glucose for proper brain functioning. Stay away from refined sugars; instead consume complex carbohydrates like whole grains or foods made from whole grain flour.
Eat lots of fruits and vegetables to get your intake of needed vitamins, minerals and phytonutrients. Micronutrients (vitamins, minerals and phytonutrients) are essential even though you only need small amounts to grow more neurons in the brain. Examples of micronutrients are B-vitamins found in hull of grains and leafy green vegetables. Zinc is another essential nutrient. It is found in seeds, nuts and red meat. Calcium regulates nerve transmission while phytonutrients build structures in the neuron as well as repair and protect neurons.
Drink plenty of water. Water is absolutely necessary for brain health as it helps with circulation and waste removal. Stay away from drinks that contain too much sugar or alcohol.