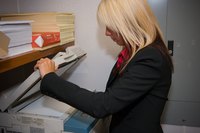 On a copy machine, the drum is the unit that transfers the toner from the ink cartridge onto the printed page and, depending upon the make of the machine and what it is used for, the drum can last between 10,000 and 30,000 printouts. Toward the end of a drum's lifespan, the copier may start to leave dark marks across copies or otherwise provide inferior quality. Most models will display a warning light when the drum is in need of replacement.
Things You'll Need
Used cloth or paper towels
Turn off the printer at the plug socket and allow it to cool down, since the drum gets hot during use. Lay down the cloth or paper towels so ink doesn't get onto the floor while you change the drum.
Open the cover of the machine. This is located on the machine's main body, at either the front or the side. It is the larger of the two panels that open on the main body of the machine, as opposed to the smaller one that opens the paper tray or the larger one on top that covers items that are in the process of being copied.
Either pull or slide the drum unit out of the copier. On some machines, there may be a small lock lever that you need to flick upward to free the drum. Try not to touch the electrodes on the side of the drum, which can cause static shock. Also, you may want to protect your hands since the toner cartridge may leak.
Pull down on the drum's lock lever (this is often a different color than the drum), and gently pull out the toner cartridge.
Remove the new drum unit from its packaging. Do not do this too far in advance, or in direct sunlight, as prolonged exposure to light may damage it.
Carefully push the old toner cartridge inside of the new drum unit. You should hear a clicking noise as the lock lever returns to its original position.
Return the drum to the copy machine as before. Replace the cover and turn on the copier. The replacement warning light should no longer be showing.