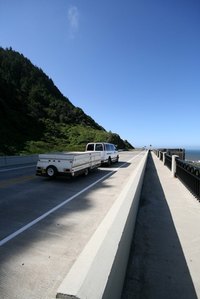 Before you pull out of the driveway and hit the road for your summer vacation, you want to make sure your travel trailer is ready for the trip. Nothing is worse than breaking down, or arriving at your destination only to realize that your trailer is not up to par. As the weather warms, set aside some time to open up the travel trailer and go through the various compartments to ensure that everything is in working order.
Pay the registration fee with your state's Department of Motor Vehicles. Travel trailers, like other vehicles on the road, need to have a license plate and valid registration. Check to make sure you paid the registration. Then attach the yearly sticker to the back of the license plate, and keep the registration information in the glove compartment of the vehicle pulling the travel trailer.
Pay the insurance for the travel trailer. Some people allow their insurance to lapse in the off season on recreational equipment such as a travel trailer. Contact your insurance company and pay the premium due. Keep a copy of the records in the trailer or front vehicle which pulls the trailer.
Open up the travel trailer to allow it to air out. Some travel trailers are of the "pop-up" variety. Make sure that the trailer does indeed open. Extend all awnings and screens to make sure they are in working order. If your travel trailer does not "pop up," still open the windows and doors so that it airs out.
Open and inspect the heating, cooling and electrical systems. Make sure that the hoses and wiring have not cracked or frayed during the off season. Turn on the heating and cooling system as well as the lights to make sure they are in working order. If not, hire the appropriate repairman to diagnose and fix the problem.
Inspect the lights on the back of the travel trailer. Make sure that the brake lights and turn signals work. If not, replace the bulbs or have the electrical system looked at by a professional.
Test all drawers and cabinets to make sure that they are in working order and stay shut when they are closed. Many drawers and cabinets have latches on them so that food and sundries do not fly all over the trailer as it ambles down the road. Make sure all of these latches properly secure the cabinets and drawers. If not, replace with latches from the hardware store.
Fill the trailer with sundries that may be needed along the way. Batteries, flashlights, bottled water, nonperishable food and a first-aid kit are all items which should be placed in the travel trailer before you leave. Put any maps or informational materials you will need for your upcoming summer trip in the trailer as well.