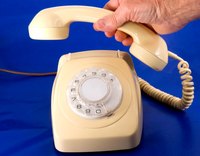 Telemarketers are sales representatives that make phone calls to prospective customers. Telemarketers usually call from a long list of contacts that they buy from other companies. Most companies must provide you with a privacy notice and an option to opt out of having your information shared. If you choose not to opt out, telemarketers may contact you. To prevent such calls, opt out and register with the National Do Not Call Registry.
Write a letter to the credit bureaus to opt out. Write a letter requesting that your personal information not be shared with companies for promotional purposes. If you want to opt out for credit offers, you can contact the credit bureau by calling 888-567-8688. If you want to opt out for other promotions, write to the credit bureaus and mail your letter to the following addresses:
Equifax ATTN: Options P.O. Box 740123 Atlanta, GA 30374-0123
Experian ATTN: Consumer Services Department 901 W. Bond Lincoln, NE 68521
TransUnion Name Removal Option P.O. Box 505 Woodlyn, PA 19094
Visit the National Do Not Call Registry online at www.donotcall.gov. Click "Register Now." Enter up to three phone numbers you would like to register. A confirmation to add the phone numbers will be sent to your email address. In the email, there will be a confirmation link. Click the link to complete the Do Not Call Registry.
Call the Do Not Call Registry's automated system at 888-382-1222. Follow the prompts. You will be asked which language you prefer, whether you are adding or deleting a phone number, and what phone number you want to add or delete. You must be calling from the phone number you want to add or delete.