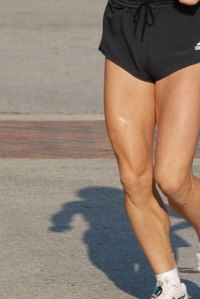 Waking up in the middle of the night with terrible aches in your lower legs or suddenly being incapacitated during a morning run due to tightness and burning in leg muscles can be a frightening experience. Despite the excruciating discomfort caused by a muscle cramp, or a "charlie horse," this is a benign condition that simply requires symptomatic treatment.
Things You'll Need
Bengay muscle cream or equivalent product
Prevent a Cramp
Focus on eating whole foods high in vitamin content as well as calcium to avoid ever getting a "charlie horse" or other muscle cramp.
Avoid states of dehydration that make muscles more prone to cramping. Drink at least 64 ounces of water each day at minimum and more if you exercise vigorously. Be sure to drink liquids fortified with electrolytes if you are engaging in particularly exhausting sports such as marathon running.
Avoid extreme muscle fatigue. Do not quickly increase mileage, speed or hills if you are beginning to run. Moderation is key, and exerting it will save you quite a bit of pain and injury.
Stretch before and after exercise and engage in a moderate warm-up before fully exerting your muscles. Five minutes of light jogging or walking can help avoid cramping later.
Ice muscles after use. Consider taking an ice bath after a particularly grueling workout to help avoid future cramps.
Inform your doctor of your pain if you are taking certain medications, including steroids and statin drugs, that can lead to muscle pain. The doctor will likely switch your medication if possible.
Treat a Charlie Horse
Massage the area. You can do this with your hands or with a foam roller.
Stretch the muscle gently. Avoid fast, jerky motions, but slowly lengthen and shorten the affected muscle group.
Take a hot shower or bath. This helps ease the pain somewhat and alleviates the muscle contraction.
Rub an analgesic cream around the affected area. This works quickly to alleviate cramping.