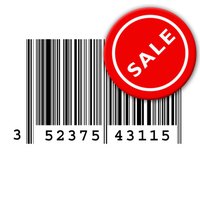 Point-of-sale (POS) systems, once the domain of large department and grocery stores, have made the transition to smaller businesses due to improved and less expensive technology and products. A barcode scanner allows a business to improve productivity by eliminating the need to manually input information -- price, tax, lot number -- into a computer or ledger. A POS system is also useful for e-commerce sites that handle large quantities of items. Installing a barcode scanner to POS software allows businesses to quickly ring up customers or track inventory.
Things You'll Need
Ensure the barcode scanner is compatible with your point-of-sale system. Almost all of today's barcode scanners are compatible with a multitude of POS software, which includes QuickBooks, Microsoft, Merchant OS, Retail Pro and many more. These software programs are all Windows, Mac or Linux based, and will work on any computer. Almost all barcode scanners produced after 2005 will be compatible with these systems, but some older barcode scanners only work with specific POS systems.
Determine which type of connectivity your barcode scanner uses. Almost all scanners, these days, connect using USB, whether they are cabled or wireless. Some older model barcode scanners use a serial connector, which is similar to the what VGA computer monitors use.
Plug the barcode scanner into your computer using either the USB or serial connector. Most barcode scanners are plug-and-play ready, meaning the hardware driver is automatically installed when the device is plugged into the computer. This also means that device will automatically be recognized by your POS software. Some barcode scanners will come with a driver CD that will need to be installed manually.
Configure your barcode scanner. This is accomplished by performing test runs with sample barcodes. In your POS software input the barcode number and all the information -- price, tax, lot number -- that will be collected once the barcode is read by the scanner. Scan the same barcode using the newly installed scanner. Once scanned, your POS software will display all the information pertaining to that product.