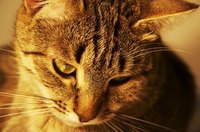 Cats sometimes develop the habit of using potted plants as their litter tray. This behavior is unpleasant and unhygienic and should be stopped as soon as possible. Cats may develop this habit in response to short comings with their own litter tray, or may be taught to do this by a new feline addition to the family. Fortunately, there are ways to prevent your cat from using the plants in place of its own litter box ranging from modifying the cat's behavior, to simply removing the potted plant.
Things You'll Need
Numerous litter trays (optional)
Fist-sized river stones
Colored pebbles
Drift wood
Flexible cat mat
Feline repellent
Clean the cat's litter tray regularly and place it in a quiet location. The cat may only be using the potted plants because of problems associated with its own litter box.
Provide sufficient litter trays, if you have a multi-cat family. Many cats will not easily use a communal litter tray.
Place a number of fist-sized river rocks into the plant pot. Pack these close enough together that the cat is unable to reach the potting soil to dig and scrape. Colored stones or pieces of driftwood work equally well and look attractive as well.
Trim a cat mat to fit your potted plants. These flexible mats help keep cats out of flowerbeds and will work equally well if placed in a plant pot. Cats prefer not to walk on the short spikes and typically leave the area alone.
Spray a feline repellent onto the sides of the potted plant holder. These repellents were designed to be offensive to cats, who invariably keep their distance.
Move your potted plant to a different room or place it in a position where the cat will be less inclined to feel relaxed enough to consider using it.
Modify your cat's behavior by calling it away from the plant or disturbing it en route to use the plant as a litter box.