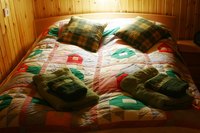 If you've had the misfortune of finding bed bugs in your home, you know that they're not just fictitious nursery rhythm critters. Bed bugs infest houses regardless of hygiene or cleanliness and make their homes inside the deep recesses of furniture cushions, mattresses and drapes. No bigger than a rice grain, these insects feed on unsuspecting humans, leaving small red bumps on your skin. Removing bed bugs from your home requires a multi-layer approach using natural exterminates like heat, freezing and suffocation.
Wash all cloth items in your home using 113 degree water for at least one hour. These items include clothing, sheets, curtains, drapes, tablecloths, bed skirts and blankets where bed bugs or their eggs may be hiding. Dry your laundry on the hottest setting available for extra exterminating power.
Eliminate clutter. Clutter, not dirt, harbors bedbugs. Piles or bags of sedentary items make cleaning difficult and offer ideal conditions for bed bugs to thrive. Place any unnecessary items into clear garbage bags, tie a knot tightly at the top and deposit items at the dump. Be sure to clearly mark the bags as containing bed bugs with a marker or a taped sign.
Freeze your furniture. If you live in a sub-zero climate, drag your furniture outside, remove the cushions and leave it there for 72 hours. Periodically flip the cushions or your mattress to expose bed bug hiding spots. Freezing is only an effective extermination method if the temperature outside consistently remains below 0 degrees for at least three days.