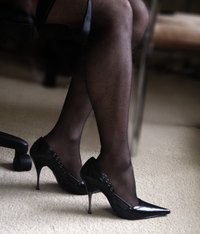 You have generally reached your maximum natural physical height after 23 years of age, but you can increase your height with the use of height-increasing shoes and inserts for your regular shoes. If you are a woman you may be comfortable wearing high-heeled shoes, and if you are a man you may want to add inserts to your shoes. There are also certain stretches and types of torso and back strength straining exercises that can improve posture and elongate the spine. These training practices can be incorporated from yoga and Pilates routines.
Things You'll Need
Foot doctor
Height-increasing shoes
Height-increasing insoles
Stretch and strength workouts
Shoes and inserts
Make an appointment with a foot doctor. He will be able to properly fit you for height-increasing insoles that you can put in your everyday shoes and can increase your height up to about 10 cm.
Find properly fitting and comfortable high-heeled shoes that you can wear to increase your height up to 5 inches, and even higher with certain platform shoes. Women generally wear high-heeled shoes, but certain shoe soles are also made for men's shoes which have a discrete height-increasing sole below the heel of the foot and the ball of the foot.
Add insoles to high-heeled or high-soled shoes to notice the largest increase in height. Pay attention to your comfort and health of you feet and your back when you wear height-increasing shoes and add height-increasing soles. If you feel discomfort in your feet, legs or back, don't compromise your health for the sake of your height.
Stretching and strengthening
Join a yoga or Pilates class or watch a video of a class to get the benefits of strengthening and stretching your core and your spine. The instructors in a class or on a video can instruct you on how to properly do some exercises that will give you a taller appearance when you stand up straight and support your spine.
Practice your yoga or Pilates exercises at least two to four times a week. Try to set a goal for yourself. Practice strengthening your back and abdominal muscles twice a week, and practice stretching your spine and your legs twice a week.
Stand up straighter with your reformed core strength by supporting your lower back with your strengthened abdominal muscles. Roll your shoulder blades down you back so that you don't slouch your shoulders down.