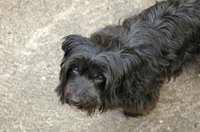 It is important to keep your dog groomed, not only for the sake of looking good but also for health reasons. Dogs with especially long hair must be groomed to prevent matting and skin irritation. Trimming of matted hair is an ideal solution. If you are unsure how to remove the matted hair yourself, finding a groomer is your next best option.
Things You'll Need
Locate the matted areas on your dog. This will give you an idea of how big of a job you will be facing.
Brush the dog's hair with the dog brush. Be sure to brush gently because puling on the matted hair can cause pain. Small mats may be removed with brushing.
Comb the larger mats using a fine-toothed comb. Start at the end of the mats and pick at the hair to loosen the mats. Do not comb through the mat because it will be painful.
Grab one section of matted hair and begin clipping with the scissors. Start by trimming the ends and continue to cut in small sections until the matted hair is removed. Brush the dog's hair again to make sure all mats are removed.