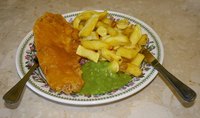 Effective advertisement, such as flyer design, is important to consider when promoting a business such as a fish and chips shop. A flyer with a well thought-out, eye-catching design can help to draw first time customers in and spread news of your business. Important characteristics to consider when designing a flyer are creating a center of attention and using a simplistic layout. An effective, one-page flyer for a fish and ships shop can be designed relatively easily in a short period of time.
Things You'll Need
Design software
Paper (optional)
Use the pencil and paper to sketch out an idea, or several ideas, of what you may want your flyer to look like. While this could be useful, it is not necessary.
Choose a center of attention for your flyer, such as a photograph of the fish and chips shop or a discount you are offering to new customers. Use visual elements such as density, position and size to establish this as a focal point for your readers. For example, type the deal you are offering in the top center of your page, making the text bold and rather large.
Type in any additional information you would like your audience to know below the center of attention, such as the location, telephone number and products of the fish and chips shop. To keep confusion to a minimum, do not use more than two typefaces on your flyer.
Add a relevant, attention-grabbing graphic or photograph to your flyer. When choosing the location for the picture, keep in mind that the design of the flyer should remain rather simple. Do not make it overly large, and place it somewhere like below the text, or in between the center of attention and the additional text.
Organize your flyer. Use plain or decorative borders to enclose separate levels of material and add polish. Ensure that you keep any use of color complementary, as opposed to bright and clashing.
Maintain the marketing message and visual themes of the advertising for your fish and chips shop. It will become familiar to repeat customers, and remain fresh to new customers. Be enthusiastic in your message but do not make unrealistic claims.
Save your finished flyer when you are pleased with how it looks. Print your desired number of copies and distribute your flyers.