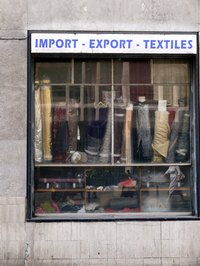 An interesting way to pay for world travel is to become an importer. The primary responsibility of an importer is to buy goods from countries around the world and bring those goods to his own country for resale. An importer can be self-employed or work for an import-export firm. She can sells goods in her own shop that she purchased during her travels, or she can supply the goods to other retailers. An import license is only required for imports of goods regulated by a government agency, such as meat, firearms, alcohol or medicine.
Identify a product or genre of products about which you have some knowledge. Knowledge of a product will help you assess quality, and identify damages. This knowledge also can be useful to defend attempts to overcharge you. On other hand, take a world tour to locate a product to import. Many importers find unique products that have yet to be imported. Some importers import a range of products purchased from around the world that would appeal to a specific client base. If you do not know what product to import, identify a client base and list the types of goods that demographic might like to buy.
Estimate the amount of product you would like to bring back. If you plan to import on a large scale, you will need funds to ship the goods on a shipping container. Depending on the size of the goods, you may need to ship by container. Small items can be shipped to your store or home by postal mail.
Plan your travel route. Import buying trips can take you off the beaten path, but establishing a path in the first place will give structure to your trip. Start by selecting the first city where you wish to arrive. Make reservations for flight and hotel accommodations for the dates that you will be staying. Stay a few days in each city to maximize opportunities to find the best deals. Choose subsequent cities according to your desired route to go north, south, west or east. Make hotel accommodations for each. Ask hoteliers about travel by train or bus to your next destination, and make reservations through the concierge if possible.
Collect capital to fund your travel expenses, as well as the cost of purchasing and shipping the goods. Capital may be obtained through business loans or investments from others who would like a share of your business profits.
Register your business with the state in which you will do business. Each state has its own rules for starting and registering a business. Obtain a Federal Employer Identification Number (FEIN) from the Internal Revenue Service. You can obtain a FEIN online. On the IRS website, click the type of business you will be operating. Enter your name, address, Social Security number and business name. Click to continue to Step 3. Write down the number you receive from the Internet. Use this number when filing state and local taxes for your business.
Fill out customs forms reflecting the type of goods purchased and their calculated value. If you are importing meat, alcohol, firearms, tobacco, wildlife or medicine, obtain the necessary licenses and registrations from the agencies that regulate these goods. The Food and Drug Administration regulates meat and medicine. The Alcohol, Firearms and Tobacco agency regulates those items. The U.S. Fish and Wildlife Service regulates the importation of wildlife.
Keep all receipts and invoices from your travel. All expenses incurred on a trip primarily for business can be deducted from the taxable income for your business. Food can only be deducted at 50 percent of the expenditure as the IRS assumes you must eat to survive. The cost of the goods and the cost for shipping must be deducted from the profits generated from operating your import business.