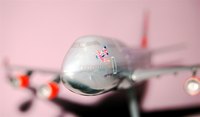 So, you've got a 12 hour flight from Los Angeles to Hong Kong, or maybe its that 22 hour flight from London to Sydney. Either way, you've got a long flight ahead of you. If you want the flight to go by fast, try sleeping on the plane. Assuming you book the right flights and do the right things on the flight, sleeping on an international flight is a feat that can be accomplished.
Sleeping on Internationjal Flights
Try to book a red-eye flight. This way, you will be flying at night, which is an easier time to sleep.
Do the routines on the flight that you would usually do before bed at home. This could mean brushing your teeth before bed.
Pretend you are sleeping in your own bed by bringing the pillows and sheets you sleep with at home.
Consider putting on a blindfold to block out as much light as possible.