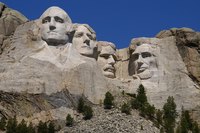 Mount Rushmore is one of the most popular monuments in the United States. Located in the Black Hills of South Dakota, it is a mountain carved in the faces of Abraham Lincoln, Teddy Roosevelt, George Washington and Thomas Jefferson. Because of the ingenuity of carving human faces into natural terrain, Mount Rushmore has captured the fascination of many Americans. If you plan to visit Mount Rushmore, you should expect lots of driving, cheap hotel rooms and lots of other tourists.
Things You'll Need
Car
Map of South Dakota
Map of United States
Before Hitting the Road
Decide how long it is going to take to get to Mount Rushmore by using a map of the United States or online at MapQuest.com.
Decide how long your vacation will be, factoring in driving time and how many days you want to stay there.
Set aside enough money to cover the cost of gas, hotel rooms, food and miscellaneous items such as the fee to get into Mount Rushmore National Memorial.
Getting to Mount Rushmore
Make your way to South Dakota using your map of the United States or your car's GPS system.
Once in South Dakota, take Interstate 90 to Rapid City.
Get off the Interstate in Rapid City and take Highway 16 southwest into the Black Hills National Forest.
Take Highway 244 west and follow signs to Mount Rushmore National Monument.