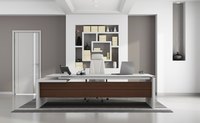 Starting your own chiropractic practice can be both exciting and scary. After all, being an independent practitioner involves more than putting your clinical skills to work. It also means creating and running a successful business. Part of that pursuit is creating an office environment that presents as both professional and comfortable to your patients. Understanding the subtle elements that create the right effect can make your office a place where patients want to be.
Install warm lighting. Avoid fluorescent lights; incandescent and halogen light are less stark and institutional. However, when fluorescent is the only choice, use warm white fluorescent tubes and bulbs. Add lamps to waiting areas and offices whenever possible.
Paint or wallpaper in pastel or soothing colors such as light yellows, blues and greens. Avoid busy patterns and designs as well as dark color shades, gray and black. At the same time, keep the look professional; don't get too cute or flowery. Go with simple designs. Earth tones such as brown, beige and green are also warm and grounding.
Choose comfortable, padded, upholstered furniture for your waiting room and include chairs with arms. Some medical designers advise against sofas, especially if you have a high-traffic flow in your waiting room. However, if you don't expect more than five people at a time, a sofa can be inviting and relaxing.
Have bookshelves and a reading library with information about chiropractic medicine in your waiting room or somewhere patients can access them. Keep magazines related to health care, lifestyle and healthy living in your waiting room and in any offices or treatment rooms where patients wait.
Include plants throughout your office -- on ledges, tables, desks and standing or hanging in corners. Plants soften the space and give it a human touch. However, be simple and avoid plants that flower or have greater chances of triggering patient allergies.
Hang pleasant paintings and photos as well as informational and educational material holders on your walls. You want enough decorative pieces to complete the office's inviting, warm feel, while still informing your patients about chiropractic care and their conditions.