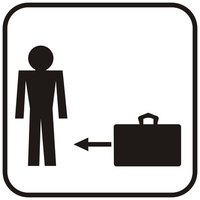 All major U.S. and international airlines implemented new and more stringent luggage restrictions since 2001. With many airlines now charging for checked baggage and limiting the types of items you can bring in your carry-on luggage, it is important for travelers to pack correctly and efficiently. Each airline has its own specific weight limits and checked baggage fees, however, some basic guidelines will prepare you and your luggage for your journey.
Pack lightly. Even if a carrier does not charge you for your first piece of checked luggage, all U.S. carriers will charge you an extra fee for any checked luggage more than 50 pounds. Also, if your airline does not charge you for your first checked bag, they will charge you for any additional checked luggage. Double check with your airline for complete details on their weight restrictions and checked baggage fees or go online to Flyforless.travel.
Ensure that no prohibited items are in your luggage. Sharp objects, guns, knives, self-defense items and many sporting goods are strictly prohibited in carry-on baggage. Explosives, flammable items and disabling chemicals are prohibited in carry-on and checked luggage. Visit the TSA's website at Tsa.gov for a comprehensive list of prohibited items.
Take only carry-on bags when possible. For short trips, a properly packed carry-on baggage should be able to carry everything you need for your trip. Not only does this save you money on checked bag fees, but also saves you time when you land since you won't have to wait to pick up any checked luggage. In most cases, airlines will allow you to bring two carry-on items per person for free—one that fits in the overhead compartment, and one that fits underneath the seat in front of you. The maximum dimensions for carry-on luggage are 45 linear inches by 115 centimeters.
Place all liquids, aerosols and gels in a clear zip-lock plastic bag. Remember, these kinds of items must each be in a container that is 3.4 ounces or smaller if you are going to take them with you in your carry-on.
Put your laptop and any other fragile electronics in your carry-on luggage. Be prepared to remove these items from your bag for security screening. Keeping your valuables in your carry-on also reduces the risk of any potential damage or theft.