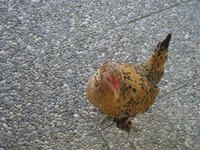 Your chickens must feed even when you are not home, so most farms need to have an automatic feeder to supply food to the livestock. In feeding chickens, transforming a five-gallon bucket into a chicken feeder is one of the easiest solutions. Chicken feeders are buckets full of chicken feed such as cracked grains. They are in the center of the hen house where chickens can stick their heads into the bucket and feed themselves at any time of the day.
Things You'll Need
Five-gallon bucket
Bucket lid
Electronic drill with 1-inch hole saw bit
Plastic flower pot drain basin
Four 1/4-inch bolts
Four nuts
Wrench or Spanner
Cut one-inch diameter holes around the side of bucket at the bucket's base using a hole saw bit and a drill. Leave a three-inch space between each hole.
Place the bucket with its base down into the plastic flower pot drain basin.
Drill four small holes in the side of the bucket 1/2-inch up from the base and halfway between the one-inch holes. Drill four holes in the side of the plastic flower pot drain basin that line up with the bucket's small holes.
Slide the bolts from the drain pot into the bucket, and put the nuts on inside the bucket using a wrench or spanner to tighten them. Tighten only until they are snug; over-tightening can cause the drain pot basin to crack.
Fill the bucket with cracked grain. Put the lid on top of the bucket, and place it in the middle of the hen house. As the chickens start eating the feed, gravity will pull the grain down into the flower pot base.