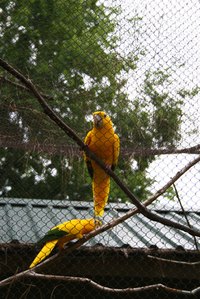 From time to time, your bird may become injured and have the need for an Elizabethan collar, similar to that used for cats and dogs. These collars are also used to keep birds from plucking their feathers. Making an Elizabethan collar is not a difficult process and can usually be completed using household items. It is advisable to make an Elizabethan collar for your bird before it becomes necessary. That way, in case of an accident, the collar is ready to use right away.
Things You'll Need
Measuring tape
Scissors
Skewer
Measure the length from your bird's nose to his neck to determine the size Elizabethan collar you will need. The second measurement you will need is the diameter of the widest part of your bird's head.
Find a nonbrittle plastic container that is at least as big around as your bird's head, such as a round fast food container or other food storage container. Carefully cut out the bottom of the container using a razor knife. Cover sharp edges of the plastic with tape to avoid injury to your bird. Cut the side of the container so that it will lay relatively flat.
Pierce the long edge of the container with a skewer, about one centimeter away from the edge. Make a series of holes about one inch apart all along the edge of the container.
Adjust the container height by cutting it to the measurement you got for the length from the bird's nose to his neck. Check to see that the Elizabethan collar fits around the bird's neck, and cut any excess length from the container.
Thread a sturdy string through the series of holes, with some overhang at each end. Put the collar around your bird's neck and tighten it as needed, making a small knot in the string to secure it.