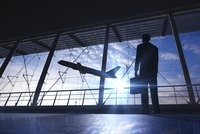 The U.S. Public Interest Research Group Education Fund in 2014 published a report that stated Spirit airline received three times more complaints to the Department of Transportation than other airlines. In general, flight problems are a big source of complaints as are lost baggage, false advertising and poor customer service. If you're aiming to file a complaint to the airline, you have a number of ways to do so.
Email, Telephone or Postal Mail
To speak to a person at Spirit, call the number listed on the company's "Do you have a comment, question or concern?" webpage. The page also offers a contact form you can click on to send an email to Spirit's customer relations department. If you prefer postal mail, the address on the same webpage. Be polite and respectful in your letter, and lay out what you expect the airline to do to resolve your complaint. Include a return address and telephone number as well as important information such as the date, time, flight number, reservation number and any other details about the flight.