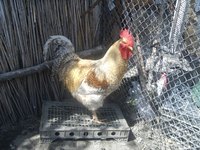 Looking after your chickens involves making sure that they are fed, watered and housed in a clean environment. During the summer months, the chickens can roam outside, pecking at the ground as they please but you will need to keep them inside the coop to protect them from the winter cold. To insulate your chicken coop, you will need fiberglass and some basic tools. Adapting your existing coop over the course of a weekend is the most cost-effective solution.
Things You'll Need
Measuring tape
Fiberglass insulation squares
Fencing staples
Hammer
Calculate the area of the coop's internal walls. Do this by multiplying the length and height of each wall and adding them together.
Buy the required area of fiberglass and chip board paneling at a builder's yard. Use the measurements you obtained during step 1 to do this.
Cover the internal walls of the coop with fiberglass. Take squares of fiberglass and use fencing staples to attach them. Ask a friend to hold them in place while you hammer, if you need an extra pair of hands.
Tug gently at the fiberglass to make sure that it is secure. Once it is behind the chip board it will be difficult to access, so check that it is held in place properly. Also check that it is dry.
Create an insulating wall by attaching chip board on top of the fiberglass, so that it becomes the new internal surface. Use a drill and screws to secure the chip board to the frame of the chicken coop.
Cover the fiberglass insulation completely. Look for fibers protruding through the chip board panels. Chickens peck at anything so it is important the fiberglass is securely behind the panels.