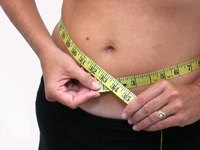 According to the Centers for Disease Control, the incidence of childhood obesity in America has "more than tripled in the past 30 years." More than ever before, we find our children at risk of diabetes, cardiovascular disease and hypertension. The good news is that children are a resilient bunch and bounce back from weight gain a lot faster than adults. A few diet, exercise and lifestyle changes will work wonders to improve both your child's health and his self-esteem.
Things You'll Need
Healthful food choices
Workout clothing
Increase physical activity. Kids should get at least 60 minutes of exercise per day. If you find this difficult to do all at once, try splitting the exercise times.
Think out of the box. Exercise doesn't have to be boring or a chore. Many forms of exercise such as inline skating or swimming are fantastic (and fun) ways to exercise — even if they don't feel like a workout.

Drink at least one of your meals a day. Making a delicious, healthful fruit and vegetable smoothie is the perfect way to introduce daily servings of vitamins and minerals to picky eaters.
Cook at least one vegetarian dinner per week. Get children involved in meal planning by taking a trip to the local farmer's market and letting them pick vibrant fruits and vegetables to bring home.
Get the whole family involved. It will be much easier to lose those unwanted pounds when getting fit becomes a family affair. Finding fun family activities that everyone enjoys will bring you closer together and make you healthier.
Set realistic goals and be prepared for setbacks. Reward children for reaching and maintaining goals, but don't punish for setbacks. Remember, losing weight and living a healthy lifestyle is a life-long commitment, pat yourself on the back for getting your child off to a great start.