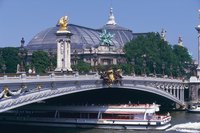 Paris has two key things going for it when it comes to seeing the sights without breaking the bank -- an extensive Métro system and indisputable walkability. The first is convenient and the second is the best way to explore a city that's best appreciated on foot. Using discounted Métro tickets, plus your own two feet, it's cheap, hassle-free and easy for visitors to get around. The capital city's commuter train system, called RER, is connected to the Métro, so from the 12th-century Notre Dame Cathedral to the 21st-century Disneyland Paris, it's a cinch to pinch pennies. The RER is the least expensive option for a city transfer upon arrival at Charles de Gaulle Airport.
Getting into Paris
For air travelers, affordable transfers between Charles de Gaulle Airport and Paris could be one of the biggest transportation savings of a visit by avoiding taxis. After baggage claim, follow "Gare" signs where the RER Line B train goes into Paris, calling at Gare du Nord, Châtelet-Les Halles, Saint-Michel, Luxembourg and other stations with connections to the Métro. A single-fare purchase for zone 5 is cheapest. Air France runs shuttle buses into the city that passengers from any airline can use. Look for "Les Cars," departing every 12 minutes from terminals 1 and 2, calling at five major stops in Paris. Picking up at all terminals, RoissyBus goes to Opéra on the Right Bank every 15 to 20 minutes. From terminals 1 and 2, Bus 350 is a public transit bus to the Gare de l'Est and Bus 351 to Nation in Paris.
Discounts on the Métro
With 14 lines, 300 stations and 131 miles of tracks, you're never more than a 10-minute walk from a Métro entrance. Tickets for the Métro are called "t" (pronounced "tay") and can be purchased in bundles of 10, called a "carnet," for a savings of approximately 25 percent. The tickets of a carnet (say, car-NAY) are transferable; they can be shared by others. It's more economical to buy children their own carnet, which is half the price of the full-fare single tickets you'd otherwise have to pay for kids ages 4 to 10. Children under age 4 travel free. Only credit cards with a magnetic chip will work in the ticket machines; otherwise pay by coins or purchase the carnet at manned Métro windows. To enter the metro, slide your ticket into the turnstile, retrieve it, step through and hang onto that ticket until you exit. Some stations require an exit swipe.
Pedestrian Paris Know How
An investment in comfortable walking shoes pays off in Paris, where walking is a way of life. To do Paris self-guided, pick up a free tourist map at the airport, in hotels or department stores. As you walk, keep an eye out for small brown signs pointing the way to all major historic sites. To join a free 60- to 90-minute guided walk, book a place on Discover Walks, or simply tag along. English-speaking guides wearing pink vests take small groups around town daily on scheduled walks, rain or shine, supported by voluntary tips. Tour the landmarks or delve into a famous neighborhood, such as Montmartre or the Marais. If your heart is set on a Seine River cruise, opt for the least expensive way; it's a water taxi called Batobus, with eight big name stops for the hop-on, hop-off service.
A Focus on Free
On the first Sunday of every month, Paris museums are free. At the Louvre, world's largest museum and home to the Mona Lisa, admission is always free on Friday nights for those age 25 and under. At Musée d'Orsay, a magnet for fans of the French impressionists, individuals under 18 are always free. There's no charge for a look at the stained glass rose window and flying buttresses at Notre Dame, but on each first Sunday between March and October, the fee is waived for access up 387 steps to the bell tower and its gargoyles. Meander through Paris parks dotted with fountains, statues, playgrounds, boules courts and carousels. Capture great photos in the Champs de Mars at the base of the Eiffel Tower. Stroll along the banks of the Seine, venturing across any of its many pedestrian bridges for far-reaching views and a connection between Left Bank and Right Bank. These walks are not only free, but are essential to the Paris experience.