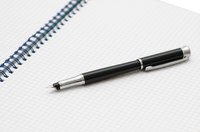 Ink pens are commonly used for business and personal correspondence. Quality ink pens are often given as graduation or thank you gifts to students and clients. Non-disposable ink pens are designed to work with refills so that when the ink runs out, the user can insert a new ink cartridge and continue using the pen. The most important step in refilling your ink pen is to examine the current ink cartridge when it runs out.
Disassemble your ink pen. Remove the cap and set it aside. While holding the barrel of the pen, gently apply counterclockwise pressure to the base of the pen tip. You should feel it loosen and begin to unscrew.
Unscrew the pen top from its base and set the tip aside. Look inside the barrel for the ink cartridge, which will have a pointed end (which you use to write with) and a thicker, cylindrical end (which stores the ink).
Examine the ink cartridge carefully for a brand and number. Determine whether your pen is a ballpoint or rollerball style. Contact the manufacturer of your ink pen or go online to search for ink refills identical to the one in your pen. Reassemble your pen and store it away until you purchase and receive the new ink refill.
Once you have received the new refills, examine them to ensure that they are identical to your current ink unit. Disassemble your ink pen and insert the refill into the barrel with the tip pointing up. Carefully screw the pen tip housing on over the refill point and the pen barrel.
Scribble on a scrap piece of paper until the ink begins flowing freely from your pen.