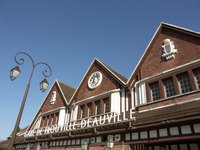 From the tree-lined boulevards of Paris to the seaside boardwalks of Deauville, the 123-mile train journey to Normandy takes about two hours. A popular destination for weekend getaways from Paris, transportation and accommodation in Deauville should be booked in advance.
Depart From Gare Saint-Lazare
Typically, three departures on national railway SNCF leave for Paris to Deauville per day. Trains depart from Gare Saint-Lazare, a busy train station at 13 Rue d'Amsterdam in the 8th arrondissement, accessible by public transportation on metro lines 3, 12, 13 and 14 to Saint-Lazare. On foot, it's about 10 minutes from Gare du Nord, where RER trains from Charles de Gaulle Airport and Eurostar trains arrive.
Arrive at Trouville-Deauville
Trains arrive at Gare de Trouville-Deauville, a station within a five-minute walk to hotels in the town center and less than a mile from beaches and the historic Casino Barrière de Deauville. Sometimes referred to as the Paris Riveria, Deauville shares the train station with a less flashy cousin, the neighboring town of Trouville-sur-Mer. A three-minute ferry ride across the River Toques connects Deauville to the picturesque fishing village.
Deauville's Social Calendar
Built as a getaway in the 1860s by Parisian entrepreneurs, Deauville's centerpiece is a promenade boardwalk overlooked by palatial luxury hotels. Host to prestigious thoroughbred races, polo championships and yachting regattas, Deauville is also known for its American Film Festival, attracting stars as well as members of the public since 1975. A busy events calendar includes an antique car rally, international bridge festival, poker tour, music and book fairs, conferences and more.
Deauville Stays and Surrounding Sights
Several of Deauville's deluxe hotels are considered destinations in themselves for their service standards, architectural appeal, Second Empire décor, fine dining and sea views. Three Anglo-Norman style landmark hotels are well-known: Normandy Barrière, Royal Barriere and Hotel du Golf Barrière with its own nine-hole and 18-hole courses. For trips into the surrounding horse country, through the Calvados cider region or D-Day beaches, or sightseeing in pretty Honfleur, visitors can find a car rental desk at the Trouville-Deauville train station.