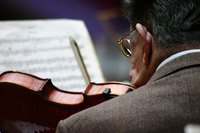 Despite the onslaught of the Internet and other new media -- from iPads to electronic books -- radio remains a powerful, popular medium. And that's especially true when it comes to event marketing. Whether it's a concert or a lecture, a game or a home show, radio is the proven go-to option when it comes to selling tickets. A successful radio commercial for an event requires attention to a few simple principles.
Adopt the right tone. A radio commercial for a monster truck event will sound much different than one for a classical music performance. That's because each draws a specifically-defined audience with its own vocabulary, tastes and sensibilities. To be effective, your commercial must target your precise audience and talk to them in language they understand and relate to.
Sell benefits. No one will care about your event unless you give them a reason to care. For example, a monster truck event could be promoted by promising the biggest trucks and most wanton destruction ever witnessed by an audience. You could lure a classical musical audience by selling a local appearance by an international superstar conductor such as Sir Neville Marriner, or instrumentalist such as cellist Yo-Yo Ma. Be very specific about the reasons why people should invest their time and money into your event. And tell them from their point of view, not yours.
Write copy for a 30-second or 60-second commercial. Avoid the longer format, unless there's a good reason you need that much time. Audience attention spans get shorter and more challenged every year in an era of chronic over-communication. A faster-paced commercial for a truck event will, by definition, contain more words than a slower-paced ad for classical music. Either way, make every word count. Read the copy out loud with a stop watch to see how fast it has to move to come in at 30 seconds. If in doubt, trim it. The goal is simple, clear, truthful communication that will motivate attendees. Make clear how to get tickets and offer a website address and toll-free phone number for more information.
Find a station or stations. Based on your key target demographics, identify stations that attract the same audience you're looking for. For example, a truck event will target men 18-34. A classical music event will target adults 25-54. Those are distinctly different market segments and every media market has at least one station that caters specifically to each. Other basic market segments include women 18-34, men and women, or adults, 18-49 (the key metric for late-night TV success) and men 25-54 or women 25-54. Confirm the claims the station makes with Arbitron data or credible proprietary audience research done by the station. Arbitron is an independent rating service that serves the same audience-measurement function in the radio industry as Nielsen does for TV.
Work with the station to create your radio ad. Because radio stations typically produce a significant percentage of the commercials that run on their airwaves, they have all the resources necessary to create an effective commercial. For instance, an experienced radio copywriter will help you polish your copy. Then the station will provide professional production, including a voiceover from one of its on-air personalities and simple, canned sound effects. Depending on how much you're spending, these services are provided free or at nominal cost, compared to paying an independent production facility.
Consider upgrading to a production house. Although radio stations generally deliver a competent product, their commercials are, by definition, composed of boiler plate elements such as the DJ the audience hears for hours at a time every day. If you want something special, such as a little vocal drama or something fresh rather than familiar, book a local media production facility. Ask for a written cost estimate in advance that includes basic line items such as copywriting, voiceover talent, taping, as well as duplication and shipping to stations.