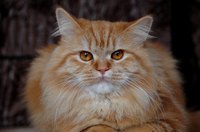 On occasion, you may experience a static charge when petting or grooming your cats. Pet static often occurs when the home is very dry, especially in the winter months. You'll know when your cat is building up a static charge when you see its hairs standing up on end, or when you get an electric shock when touching its fur. While static is not particularly harmful, it can be quite an inconvenience to both you and your pet. Fortunately, there are several different ways to combat static on cats.
Things You'll Need
Humidifier
Water spray bottle
Chemical-free dryer sheets
Ionic brush
Use a humidifier in your home. The humidifier will increase the moisture, while at the same time decreasing static charges. Vaporizing humidifiers are the most recommended for eliminating static charges in the home. Humidifiers are easy to use, just add water, plug in and turn on.
Fill a spray bottle with water and periodically spray a light mist over your pet's fur. The water will make your cat's fur more conductive and make it virtually impossible for a static charge to form. The major drawback is you'll need to do this several times a day because the static will return as the fur dries and builds up another charge.
Wipe your cat down with a chemical-free dryer sheet. The dryer sheet will eliminate the static on your cat the same way it does your clothes in the dryer. It's important to only use dryer sheets without chemicals or strong perfumes to avoid any adverse reactions with your cat.
Purchase an ionic brush and brush your cat daily. As you brush your cat, the air becomes ionized and eliminates static charges. Ionic brushes can be purchased at any pet store.