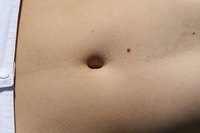 Belly fat increases your risk of cancer, dementia, heart disease and hypertension -- and women who have more than a 35 inch waist are twice as likely to die of heart disease, according to "Fitness Magazine." Although losing belly fat is challenging, it can be achieved with regular exercise and a healthy diet.
How to Lose 20 Pounds of Belly
Add whole grains to your diet. According to the "American Journal of Clinical Nutrition," a diet rich in whole grains trims extra fat from your belly. Whole grains change the responses of glucose and insulin in your body which makes it easier to lose belly fat.
Avoid skipping meals to lose belly fat. Skipping meals can make you more hungry and might cause you to overeat at your next meal. Avoiding meals has a negative effect on your body -- such as difficulty concentrating, decreased productivity, and a lower energy level.
Eat a healthy diet that consists of portions from the five basic food groups to help get rid of belly fat. These include grains, fruits and vegetables, dairy, healthy fats and lean meats. Weightlossforall.com explains that portion control is a major factor when it comes to losing weight. Eating portions that are too big will result in gaining weight if the energy from the food cannot be burned off. Food portions in your diet should be balanced evenly with calories, nutrients and fats. Eating too many calories and fat and not enough nutrients will also cause weight gain, particularly if you're not balancing your diet with exercise.
Eliminate your high stress levels to get rid of belly fat. People who are under a lot of stress tend to gain more belly weight, especially women who are in menopause. The Mayo Clinic explains that hormone changes from menopause make you gain weight in your belly. Belly fat also occurs because of your lifestyle and genetics.
Exercise for 30 minutes at least four times a week. Activity speeds up your metabolism and aides in digestion. Start with a light cardio workout such as walking five days a week for 30 minutes a day. Slowly work your way into a more advanced cardio workout such as running 30 to 40 minutes.
Avoid drinking alcohol. The American Heart Association suggests for men to limit alcoholic consumption to no more than two drinks per day and women only one drink. Limiting your alcohol intake will help you reduce belly fat.
Make a plan and get motivated. Your goals shouldn't be too difficult to achieve. Journal your progress. The most challenging part of an exercise plan is getting started, according to "Shape Magazine." Remember to reward yourself after achieving a goal -- no matter how big or small the goal may be.