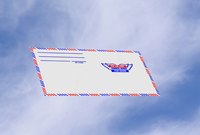 Properly formatting a foreign address can be tricky as each country has its own way of writing addresses. By doing a little bit of research into the format used in your destination country and following the general formatting regulations of the United States Postal Service, you can increase the chance of your item arriving safely at its destination.
Look up the destination country on Frank's Compulsive Guide to Postal Addresses, which has a huge amount of information on the postal requirements of every country. Under the name of your destination country, you will find instructions on how to write an address for delivery there. The most frequent difference from country to country is the order of items written on the city line, which also includes the postal code (if applicable) and the state or province.
Write the recipient's name in clear, capital letters on the item to be mailed. It should be in ink or printed on a label, not written in pencil. The U.S. Postal Service will only read the country line; so everything else should be written in a way that will be easily understood by the local post office. This may mean writing it in a different alphabet, though most post offices worldwide will understand the Roman characters used in the United States.
Write the post office box number or street address on the line below the name -- also in capital letters. This street name should be written as it appears in the country, not translated. For example, "Marijkestraat 11" in the Netherlands should not be translated to "11 Marijke Street."
Write the city name, postal code and state or provincial abbreviation all together in capital letters on the line below. Some countries require the postal code to be written first, while others prefer the city. This will be read by the destination post office; write it in the local format and language if you can.
Add the name of the country. This must be in English and in capital letters on a separate line.