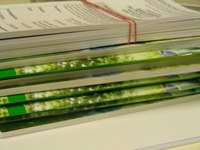 Paper catalogs provide a great way for a business owner to promote what products and services she is selling, but they will cost money to generate and mail. Be sure that you offer these to paying customers only to begin with, or that you include the cost of making these in your prices. Spread the cost out so that prices do not have to go up much. Create these catalogs in the most economical way possible, starting out with a black-and-white catalog at first, if necessary. A glossy cover is not necessary to start.
Things You'll Need
Computer
Word processing software
Digital camera
PDF converter
Start the creation of your paper catalog on the computer. Create a file to begin with, so that you will have a location for everything that you may wish to add. Don't worry if you decide not to use everything that you place in this file, as this is an idea file. Upload photos of products to this file, and list ideas.
Take photographs of the products that you will sell, and of you performing the services that you are offering. Use a digital camera and be sure that these are professional-looking photographs, hiring a photographer if necessary. Do not worry about utter perfection, but be sure they are nice. Upload these photographs to your computer, and then to your catalog file.
Start the word processor from within your file, to keep it with everything else. Create your cover, using a photograph if desired. Be sure that your company or business name is on the cover, as well as the year and version of the catalog. Your website may also be listed here.
Use one page for a table of contents, and another for a description of your company and a general overview of your products and services. Reserve the middle of the catalog for order forms, shipping information and an envelope.
Split your products and services into categories, if possible. Use one page per product if there are few, to make the catalog seem thicker. Place each photograph in the catalog where you want it, and add a description and other information that will help to explain what you are selling.
Describe the look of the product, the taste or the feel. Explain how it is used. Tell how much it weighs, the price and whether extra shipping charges will have to be added. Be sure to save your document often.
Edit the catalog, or hire someone to perform this service for you, in order to be sure that the descriptions and other wordings are spelled correctly and grammatically correct. Convert the finished product to PDF. Save this PDF document in your catalog's file as well. Print from this document.