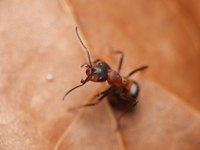 The simple pleasure of pulling a trailer into a campground and sitting down to a meal can quickly turn into frustration if a line of ants appears, marching across the trailer in search of food. Since many trailers are stored and used in outdoor areas where ants are plentiful, and often contain food, infestations are quite frequently a problem. Ants that wander into a trailer at one campground can stay and establish a nest in the trailer itself. Once ants are established in a trailer, it becomes necessary to kill them. This is easy with a few simple household ingredients.
Things You'll Need
Powdered borax
Honey
Sugar
Fill several bowls with honey or sugar water.
Add 1/8 tsp. of powdered borax to each bowl. Borax (made of powdered boric acid) is available in the cleaning aisle of most supermarkets. When mixed in small quantities into a sugary food, it creates a poison that won't kill the worker ants immediately but will build up in the colony instead. This will eventually kill the colony itself.
Set the bowls out in areas in which ants have been seen. Ensure that the bowls are out of reach of any pets or children, as the borax is poisonous. If this isn't practical, it may be worth buying ant traps; many of these use the same ingredients.
Allow the ants to come and go freely from the bowls of poison. The idea is not to kill the ants carrying the mixture, but to allow them to bring it back to the nest and poison the queen.
Repeat the process as necessary in the event of further infestations; if the trailer is moving around regularly, each new location may bring new ants.