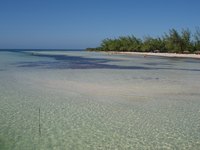 Vacationing in Cuba can be a complicated task if you are an American traveler. The United States strictly regulates and limits travel to Cuba under the 1963 Trading With the Enemy Act. These sanctions make it difficult to travel to Cuba directly from the United States, but starting from another country such as Jamaica gives you a broader range of options for traveling to Cuba. No matter how you get there, if you are a United States citizen, you must comply with all U.S. laws and restrictions for the duration of your visit.
Book a flight from Jamaica to Cuba. Flights from Kingston or Montego Bay in Jamaica to Havana, Cuba, are available on Cubana airlines. Cubana is known for changing its flight times and not sticking to schedule, and for giving away seats of passengers who arrive late, so make sure you arrive ahead of time at the gate and monitor the airline's schedule carefully.
Book passage on a cruise ship. By law, no U.S. cruise companies can offer cruises to Cuba or cruises that include Cuba as a destination. Even foreign-owned vessels cannot dock in the United States within six months of visiting Cuba. But if you are starting from Jamaica, the process is much easier. Once you have traveled to Jamaica, find a cruise or tour leaving from a Jamaican port, such as Montego Bay, that includes Cuban port cities as part of its itinerary.
Take an organized tour departing from Jamaica and arriving in Cuba. U.S. citizens are legally able to travel to Cuba if they are participating in an authorized organized tour. These tours must receive special licenses from the government authorizing them to operate tours to Cuba. You may be able to find an authorized American tour that will travel from Jamaica to Cuba, or a Jamaican-based tour that travels to Cuba via a charter flight. Make sure you work with an authorized tour group that abides by all laws and honors U.S. restrictions on travel and trade in Cuba.