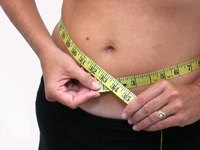 As we age, our metabolisms tend to slow down. That belly fat that has accumulated due to pregnancy, stress, one too many beers, or even just getting older, will be even more difficult to get rid of and keep off if you are over 50. There is no quick fix to getting a flatter stomach if you are over 50, but with the right amount of effort and diligence you can attain the flat abs you desire.
Visit your doctor. It is important for everyone to consult a physician before embarking on a new diet or exercise program, but being over 50, this step is even more important. A quick chat with your doctor can help avoid any unintended physical harm while trying to lose weight and flatten your stomach. Your doctor may also be able to give you personalized diet and exercise tips.
Examine your diet. A healthy diet is key to losing weight, and keeping it off. If you consistently gain weight every year, you may be taking in too many calories per day. In addition to reducing your calorie intake, try to make sure your diet is rich in whole, natural foods. According to WebMD, a balanced diet that is rich in vegetables, whole grains, fruits, and lean forms of protein is a good foundation for weight loss and a flat stomach.
Start exercising. If you seek to have a flatter stomach, you need to be exercising regularly. Your doctor will tell you how much exercise you, personally, should be getting, but get at least an hour of moderate exercise daily. Moderate exercise is not limited to going the gym; it can include a brisk walk around your neighborhood, dancing, or even gardening. Be creative, and find something that interests you, so that you will keep it up.
Target your abs. To get a flatter stomach, you should be doing some sort of cardiovascular activity in addition to eating properly. Once you start shedding your excess abdominal weight, abdominal exercises can make your midsection look leaner and thinner. You needn't purchase any extra equipment or join a gym; many effective abdominal exercises are as simple as the traditional crunch and leg raises. Pilates and yoga also emphasize strength in your core muscles, and can help you achieve your goal.