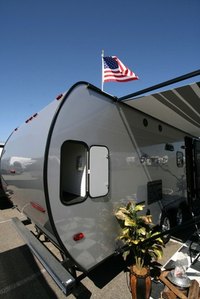 When people think of using a camper, a recreational vehicle comes to mind. Even a trailer camper or a pop-up camper gets mentioned. However, for the industrious types, there is an option that is even less expensive than regularly renting or outright buying a camper: building your own trailer camper. This approach takes a utility trailer and converts it into a camping living space. Many of the wall and frame materials are the same as a traditional camper, but the inside needs to be converted to an area for sleeping rather than just hauling equipment.
Things You'll Need
Paper
Pen
Computer
Internet access
Power drill
Wall saw
Ball sander bit
Hand rasp
Tube gun
Exterior sealant
Staple gun
Insulation
Glue
Wiring
Junction box
Draw out on paper with a pen the floor plan for how you want the inside of a trailer camper to be designed. Research on the Internet different ideas depending on the type of utility trailer you will be working on.
Use a utility trailer that already has a door so you don't have to create the door frame and door yourself. Step inside the utility trailer and mark where you will want the windows and vents to exist. Buy the windows and vents so you can then mark the insides again for the exact cutting dimensions needed. Drill a large hole at one corner with a power drill so you can insert the wall saw through the trailer wall easily.
Hold the wall saw steady while it cuts the utility wall per your markings. Finish the edges with a ball sander bit on a power drill or use a hand rasp to manually smooth the edges of the hole you just cut. Install the windows and vents in the cavities cut and secure them in place with screws or nails. Seal the edges with exterior sealant and tube gun.
Attach 2 inch by 2 inch framing inside the utility trailer. Staple or glue insulation between the frame boards. Seal in the insulation with plywood nailed to the framing boards.
Build a basic frame and table for your portable stove and small refrigerator as desired. Run wiring through the trailer to provide lighting and sockets for power appliances. Connect all the wiring to a junction box and run one set of wires to a connection for when you want to hook up a generator or campsite plug to your trailer.
Install backerboard or plywood on the floor as a subfloor material. Screw or nail it into the trailer bed. Place glue on the subfloor and install panel carpeting or vinyl on the glue to secure it in place to finish the floor. Install the frame for the bed (having a basic pad for sleeping bags is the easiest design).