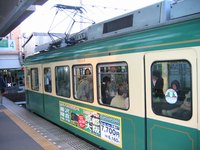 A Japan Rail Pass is a useful way to save time and money if you are traveling about Japan by train. Inter-city trains in Japan can be expensive, and a pass can save you money if you make more than one return journey in a short period of time. A pass also cuts out the hassle of buying tickets for each trip. Arrange your pass before you travel to Japan, and you will soon be enjoying high speed travel out of Tokyo to explore the country's many attractions.
Check the eligibility criteria for a pass. You can buy a Japan Rail Pass if you are a foreign tourist in Japan with a Temporary Visitor entry status marked in your passport. You are also eligible if you are a Japanese national living in a foreign country and qualified to live permanently in that country.
Choose the type of rail pass you want. Passes are available for superior class green cars and for the cheaper ordinary economy carriages. Duration of passes are seven days, 14 days and 21 days. Passes for children ages 6 to 11 are half price.
Buy an exchange order for a pass before you enter Japan. These can be bought at authorized sales agents found in a number of U.S. cities. You can find a full list of agents in the United States and elsewhere on the Japan Rail Pass website at Japanrailpass.net.
Take your exchange order to a Japan Rail Pass exchange office once you have entered Japan. You cannot use an exchange order itself to travel on Japanese trains. You must exchange the order for a pass within three months of the order issue date. You will need to fill in an application form at this point and show your passport with the Temporary Visitor stamp in it. Forms are available at exchange offices and on the Japan Rail Pass website.
Use your pass on the appropriate trains only. You can use the pass on JR Group Railways bullet trains, express trains, rapid and local trains. It cannot be used on NOZOMI trains on the Tokaido and Sanyo Shimkansen lines, and you may have to pay a surcharge if you travel on non-JR lines. You can also use the pass for JR bus companies and the JR Miyajima ferry.