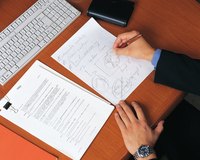 One of the most important tasks when starting a business is finding a strategic business premises. The location of a business plays a significant role in its success. Equally important are the terms of your tenancy. The terms of a business lease must benefit both the tenant and the landlord. That is why it is important to clearly indicate the kind of tenancy you are looking for when writing an application for business premises.
Write a letter to the landlord of the business premises you are interested in to indicate your intentions to rent it. Make sure this is the type of property you are looking for. Find out if you have to pay administrative costs such as legal fees in addition to rentals before occupying the premises. Some landlords will bill you for legal costs accrued in the process of applying for business premises. You have to request all this information in your inquiry letter to the landlord.
State how long you want the premises for. Typically, a business lease is longer than a personal lease. You have to decide when you are a startup, for example, if you can commit to a multi-year business. Some landlords are skeptical about tenants seeking to start a new business. Find out from the landlord if he will allow a shorter lease.
Indicate what you want to use the premises for and that you shall be responsible, at its sole cost and expense, for making sure that the laws and codes that govern building codes and municipal land use are complied with. You would also be responsible for obtaining all the permits required to conduct your business on the premises.
Indicate in your application that you want an early termination clause that will allow you to buy out a lease where necessary. This is better than an eviction or abandonment of the business premises.
Ask your prospective landlord if your deposit can accrue interests payable to you during your tenancy. Ask if the basic rent is payable monthly or in advance. If the tenancy is based on long possession equity, or improvement equity, the tenancy can last up to 35 years, or as the tenant may nominate, according to the Landlord and Tenant Act of 1980. Indicate in the letter what kind of tenancy is suitable for you.