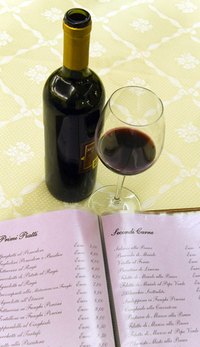 The wine list can be a lucrative addition to your restaurant's menu. Helpful wine knowledge presented in a simple manner gives customers a more satisfying dining experience and increases your overall revenue. Whether you are starting from scratch or updating your locale's current list, researching chablis and pinot noirs, and setting price points requires time. Professional wine experts can help you do some of the groundwork. But the more you know yourself about constructing a list, the easier it will be to make smart decisions for your eatery.
Things You'll Need
Your restaurant menu
List of local or regional wineries
Current wine pricing books from local reps
Computer with spreadsheet and word-processing software
Examine your menu to gain a clear understanding of the culinary style and theme. Consult your head chef for food and wine pairing ideas. Explore a variety of products, including different blends and styles, as well as a wide range of prices. Find local wineries to promote when possible.
Obtain current pricing books from your local wine sales representatives. Plan wine tastings, inviting the manager, chef, and other top staff people. Gather opinions and observations, and make note of the top picks for the white, red, and dessert categories. Research past customer preferences, and keep the best-sellers on your list.
Enter information onto a spreadsheet and experiment with different combinations in each category to determine which will offer the menu pairings and profitability you want. Decide how many wines in each category you want to offer, and which to offer by the glass.
Work with your suppliers, discussing prices for product and shipping, as well as minimum deliveries they'll make and how often. Create your final wine list, including information on wine characteristics and pairing suggestions. Edit the document carefully, and print out hard copies.
Schedule a training program to educate the managers and wait staff about each new wine. Begin to promote your list to the public along with the menu about a month before the date it takes effect.