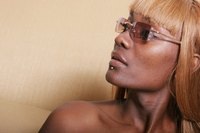 If you are looking for a new, bold look, consider full bangs. From Tyra Banks to Rihanna, full and side swept bangs have become incredibly popular among many African American celebrities. Full bangs are modern and classic, offering you instant, natural style. Before deciding on full bangs, decide if this look is right for your hair. Getting your bangs professionally cut at a salon is ideal -- but you can also achieve this bold look yourself.
Things You'll Need
Pair of sharp scissors
Ponytail elastic
Towel
Styling comb
Shine serum
Deep conditioner
Decide if full bangs are right for your hair. Full, straight bangs are best if your hair is straight. If your hair is wavy, consider side swept bangs. To make blunt bangs softer, you can part them slightly to the side. Full bangs look great with any hair length, from long hair to a bob. Full bangs also demand maintenance -- you will need to trim your bangs to keep them out of your eyes. To keep the look sexy and sleek, keep full bangs long, at or below the eyebrow. Consider your facial features as well. If you have a long forehead, full bangs are ideal for you. Blunt bangs can also bring out your eyes and the angles of your cheekbones.
Start with dry, clean hair. Wash and deep condition your hair. Apply shine serum to keep your hair shiny, healthy and moisturized. Dry your hair naturally or with a hair dryer on a medium heat setting. Cutting with wet hair can result in shrinkage, causing shorter bangs than you intended. Use a straight iron to straighten any wayward strands. Comb through any tangles.
Comb the hair you plan on cutting to the front. The more hair you pull forward, the more full or dramatic your bangs will be. Pull the rest of your hair back with a ponytail elastic. Use bobby pins to keep your hair back if necessary.
Gather the hair you plan on cutting and comb it down. Form an even line at the center of your face. If you are unsure of how full you want your bangs to be, gather a smaller amount of hair to cut. You can always make your bangs more blunt later on.
Set down a towel below where you plan to cut -- to catch discarded strands.
Begin cutting at a 45 degree angle and slowly clip your hair, moving from left to right. Take your time. Check the length as you go. Start off by cutting less and repeat until you reach your brow line. If your bangs are too blunt for your liking, take the scissors and gently snip your bangs using an upward motion, slightly breaking up the blunt line.
Style your bangs accordingly. Use shine serum to keep your bangs shiny and in place. If necessary, you can use a straight iron to keep them straight, or slightly curl them under for a softer look.