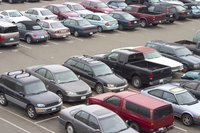 The Magic Kingdom in Orlando, Florida is also referred to as Walt Disney World, home of Mickey Mouse and all of his friends. When you visit the Magic Kingdom in your own vehicle, you'll have to park somewhere. From the parking lot you are still a little over a mile and a half from the Magic Kingdom itself. You can walk to the gates of the park or you can hop on the tram, which will drop you off at the ticket counter. From the ticket counter you will take either the ferry boat or the monorail across the lake to the entrance of the park.
Follow the street signs to the entrance of the Magic Kingdom.
Pay for parking at the parking booth, which as of 2010 is $14 per vehicle. Cash and debit and credit cards are accepted methods of payment for parking.
Continue to follow the arrows to the open parking lot. Parking attendants will guide you to the correct spot. You are required to pack directly next to the car in front of you in the spot given to you by the parking attendants. You cannot choose your own parking spot.
Pull as far ahead into the spot as possible so another car can pull into the spot behind you – unless you are already parking behind a car. Gather your belongings and walk to the tram. You are not permitted to walk behind your vehicle; you must walk in front of all parked vehicles as a safety precaution.
Make note of your parking space and section. You will park in either the Minnie, Pluto, Goofy or Daisy section and your row will be numbered. You will need to remember this information when you leave the park so you know where to disembark from the tram.