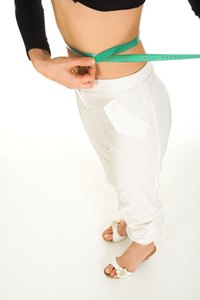 Whether it is for health reasons, sports, or for professional motives such as having an acting role that requires you to look heavier, gaining weight in 30 days is possible as long as you are determined and disciplined. The main challenge when trying to pack some extra pounds is to do it in a healthy way that ultimately won't harm your body. To accomplish this successfully, you must incorporate both a diet routine that helps you gain weight, as well as an exercise routine that will help you remain healthy throughout the process without burning too many calories.
Increase the portion size of your meals. For instance, this may involve you adding an extra egg for breakfast, an extra scoop of pasta, rice, or an extra piece of meat for lunch and dinner. Also, make sure that you are eating no less than three times a day, and add at least two snacks between meals. These snacks can consist of breads, peanut butter and any other type of foods high in carbohydrates. According to Intense Workout, adding 500 calories to your daily diet is ideal to gain weight. In other word, if you consume 1,500 calories per day, you would need to consume 2,000 calories instead.
Incorporate foods that are rich in calories to your daily diet, and to every meal. These include whole-grain breads, potatoes, beans, red meats, avocados, fish and chicken. For instance, in the morning you can have eggs with whole-grain bread, for lunch fish or poultry with potatoes and avocados on the side, and for dinner red meat with rice and beans. In between meals you can have whole-grain bread with peanut butter as your snacks.
Eat the same amount of meals and snacks every day. In other words, do not skip any meals, or snack on your daily routine. Keep in mind that consistency plays a big role in gaining weight.
Decrease the amount of cardio. Cardio exercises such as running and spinning burn a lot of calories; therefore, if you do too much cardio, you will not see any weight gain because you will be burning the calories you are consuming in your diet. However, according to Intense Workout you should incorporate a weight lifting routine to your exercises because it will build muscle weight. In other words, build muscle weight by incorporating a weight lifting routine to your exercises, and cut down on cardio exercises such as running, or jogging. If you don't have weights at home you can do push-ups and squats to work your arm and leg muscles. If you do have weights, or a gym membership, focus on working your chest, shoulders and biceps on one day, your back and biceps on another day, and your legs in between. Work your muscles only 3 days out of the week.
Drink a lot of water. A gallon per day is ideal. This will help you stay hydrated, and will give you the energy to gain the weight.
Weigh yourself at the end of every week. This will help you keep track of your weight gain goal. If you don't see any weight gain, you will need to increase the amount of food you are consuming.
Get at least 8 hours of sleep every night. Getting a good night sleep allows your body to repair and rebuild itself, allowing your muscle weight to increase. When you sleep your muscles rejuvenate from the workout you have done, and they increase in size and weight. Keep in mind that healthy weight gain is when you gain muscle weight, not fat weight.