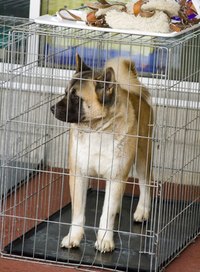 When it comes to your dog, comfort is always important. Some dog crates offer poor ventilation and are often uncomfortable. A variety of crates are available to purchase, but making your own will allow you to custom design it for your dog's comfort. An added benefit of a wooden dog crate is that it can double as a piece of furniture. Wood is a good choice for a crate because it's a breathable material that provides good ventilation, it's easier to clean than other materials and will give your dog a nice, comfy place of his/her own.
Things You'll Need
Plywood, 2 pieces
Wooden slats
Tape measure
Saw
Nails
Hammer
Hinges
Screwdriver
Latch
Measure the height and width you want for the crate. You can measure your dog and then add an extra couple of feet in length and width so that your dog will have enough room to stand up, turn around and lay down comfortably.
Cut the plywood and slats according to the measurements you took. The pieces of plywood will be the top and bottom of the crate.
Nail four slats around the base to secure it, leaving one section open to attach the door. Measure the distance between the slats so that they are even; a couple of inches is ideal. Turn the crate over and nail the slats to further secure the corners.
Add the other slats once you have secured the corners of the base. The amount of slats you will need depends on the measurements you took. After nailing the slats, nail the other piece of plywood to the top to make the roof of the crate. Hammer the nails every few inches around the entire top of the crate.
Put the door on. Start by measuring in 1-1/2" inches from each outside edge and mark with a pencil. Use your screwdriver to attach the hinges. Align the door with the hinges and secure with a latch.