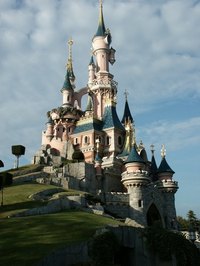 No matter what age you are, your first visit to Disneyland is always a memorable one. There are many different things that you can do while at Disneyland that will help make your first visit a very special one. Your first visit can also be more than just running from park to park. Make sure to take time and enjoy the Disney resort you are staying in, by spending time in the pool and enjoying some of the recreational offerings.
Get your button. The first thing you will want to do during your first visit to Disneyland is to get your very own special button. The "First Visit" button is given out free to all guests who are enjoying their first Disneyland vacation. You can pick up your button at City Hall. Make sure to let everyone know this is your first visit by wearing your new button everywhere you go throughout your vacation.
Do not forget your souvenirs. No first visit to Disneyland is complete without getting a pair of mouse ears. Girls can get their princess attire, while boys can stock up on their pirate plundering gear. You will want to make sure to pick up items for things you experienced during your first visit. For example if you rode Splash Mountain you might want to get the T-shirt that says "Dry is not an option," or something similar featuring the attraction. Disney also has other merchandise featuring your first visit, including pins, hats and customizable shirts.
Enjoy the character dining experience. All of the characters will bring joy and entertainment right to your dinner table when you take part in one of the character dining experiences. Characters such as Mickey Mouse, Minnie Mouse, Goofy, Pluto and Stitch will all help make your first character dining experience one to remember. If you are celebrating something, let your server know and they will help enhance the celebration with a special song and dance performed for you by the Disney characters.
Celebrate in your room. Have your room decorated by one of Disney's cast service members. You can custom pick from an assortment of celebrations and themes and your room will become one big party zone. You will be able to order balloons, flowers, gifts, chocolate and dessert trays and have dinner served to you right in your room. This is a great way to spend the evening relaxing and will give you time to enjoy your Disney resort.
Travel in the off season. There are times throughout the year when Disneyland is crowded beyond belief, hindering an enjoyable visit. To help make your first visit more special try to plan your vacation during the non-peak times to help reduce the crowds. This way you will not be frustrated from being overcrowded at the parks. Plus, you might even be able to see more of the parks since there will be shorter lines than during the peak season. Non-peak season at Disneyland is mid-September through mid-November, mid-January through mid-March and mid-April through mid-May. You can also choose to visit Disneyland during the week, since the parks are busier on the weekends.