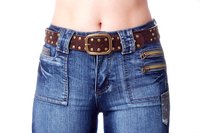 Losing weight and getting a flat stomach go hand in hand since spot reduction of one particular part of the body is not possible. If you want to get a flat tummy in one month, you will have to work on lowering your all-over body fat. By reducing that fat layer on the stomach, you will be able to display toned and tight abs. You will have to adjust your eating habits because flat abdominals highly depend on your diet. Additionally, the type of exercise also influences the rate at which you will lose weight and get a flat stomach.
Reduce your caloric intake by approximately 600 to 700 calories per day so that you lose 5 lbs. in one month. According to the Family Doctor website, 1 lb. of fat has 3,500 calories, so you will lose a little over 1 lb. per week.
Monitor what you eat and how often you eat. Eat frequent, small portions every three hours of the day so that your body constantly has to work to metabolize foods, resulting in optimal fat-burn. Consume healthy fare such as lean protein from chicken and fish, high-fiber foods such as spinach, cabbage and oatmeal and healthy "unsaturated" fats found in avocados and raw nuts.
Perform interval training, three days of the week, to maximize your fat burn. The Mayo Clinic website states that interval training burns more calories than long cardiovascular exercise session do and it keeps you challenged and prevents boredom. Jog or walk briskly for a few minutes and increase to high intensity for a few minutes. Toggle back and forth between intensities to complete up to 45 minutes. Challenge yourself by switching to other interval exercise such as biking and swimming as you get stronger over time.
Incorporate weight training into three days of the week to build muscle tissue. Muscle burns fat because it needs more energy to sustain itself, resulting in a metabolic boost. Train different muscles each day of the week that your workout. Rest one day after working out with weights to allow the muscles to restore themselves.
Sculpt your abdominals with targeted exercises so that once your stomach fat has been reduced, your flat, toned stomach will show. Work the lower abs with leg lifts and reverse abdominal crunches; perform regular crunches and sit-ups for the upper abdominal muscles and exercise the obliques with elbow-to-knee crunches and side bends.
Avoid bloating, promote fat burn, flush toxins, transport nutrients and hydrate the body by consuming eight, 8 oz. glasses of water daily.
De-stress yourself by practicing meditation and taking a few minutes to breathe deeply. According to the University of New Mexico website, high stress levels trigger the release of the stress hormone cortisol. Cortisol increases fat especially around the stomach area.
Avoid chewing gum, drinking carbonated beverages, and consuming more than 4 g of salt daily because according to the Daily Mail website, they all contribute to bloating of the stomach.