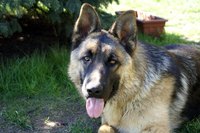 Dogs need water available at all times. Just putting a large bowl out can lead to the dog playing in the water and isn't safe for small animals or children. Use an auto-waterer to deliver fresh water. Auto-waterers work by forming a vacuum. As water pours into the tray, air enters the bucket allowing the water fill the tray. Once the water level is above the hole, the air has no way to get into the bucket. As the pet drinks the water, the water level drops and air can get into the bucket, allowing the water to flow out until the tray is replenished.
Things You'll Need
1 gallon paint bucket
Large planter tray
Drill a 1/4-inch hole near the bottom of the gallon bucket. The hole has to be lower than the top of the planter tray.
Place the bucket inside the large planter tray.
Cover the hole with a finger. Fill the bucket with water.
Remove your finger from the hole.