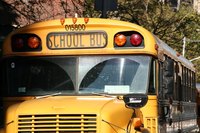 School buses are all equipped with emergency exits to be used in the event that an accident occurs and the front door is not in operation. There are several varying placements of emergency exits on school buses including front, side roof and rear exit doors. All doors are equipped with the same safety latch used to open the door. When the safety latch is opened an alarm sounds.
Locate the safety door of the bus. It can be located in several places depending on the model of bus that you are in. It may be on the side of the bus on either side from the front to the back of the bus. It may be in the rear of the bus between the back seats. The emergency exit may also be on the floor or roof of the bus or be in the form of push out windows.
Ensure that the bus is not moving before you open the safety lever on the emergency exit. Never open the emergency exit on a moving vehicle.
Pull the safety latch, this will slide from the left or the right from the top down. An alarm will sound when the latch is disengaged.
Push the door or hatch away from the bus, it will either swing open or pop off the bus.