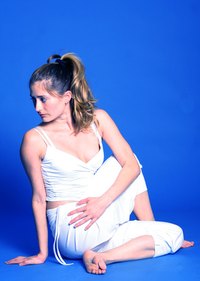 Starting a yoga class may be something you have dreamt about for a while. You are likely to have practiced yoga for a considerable time, and to have gained appropriate qualifications and experience. It is still quite a leap to actually teaching it though, and it natural to feel some trepidation. However, teaching yoga can be both profitable and satisfying. Many practitioners feel passionate about the benefits of yoga and it is rewarding to pass this knowledge on to others. Yoga is also very popular. According to FabJob.com 7.5 percent of U.S. adults already practice yoga, and many others express an interest in learning it in the future.
Gain the appropriate qualifications and experience. There are several different types of yoga, including Hatha and Bikram. There are also many ways of becoming qualified. Join the Yoga Alliance, a non-profit standards association as this will give credibility to your qualifications. Decide on the type of yoga you want to teach, or whether you want to offer introduction sessions initially.
Carry out local market research, determining the level of interest in yoga in your area. Decide whether you are going to work as an independent contractor, or seek employment with a yoga studio or recreation facility. If you want to remain self-employed, register with the Inland Revenue for taxation purposes. Seek out an appropriate premises. Make sure there is enough adjacent parking.
Ensure that the room is suitable. The decor should be calming and the walls should be mirrored. If it is a shared facility, explore the temperature control system. This is an important feature of a yoga class. Ideally, you need to be able to control this yourself. Check the arrangements for paying utilities. Work out your costs. Decide on the frequency of classes. Try to estimate the numbers of students. Advertise your classes.