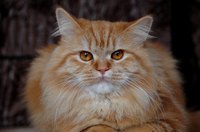 When cats groom themselves, they ingest loose hairs which can accumulate in the stomach and small intestine, according to the American Society for the Prevention of Cruelty to Animals. Cats then vomit up these balls of matted hair, known as hair balls. To eliminate hair balls, try adding psyllium husk fiber to your cat's diet. The soluble and insoluble fiber contained in psyllium husk powder will help move the hair through the digestive tract, preventing the formation of hair balls.
Things You'll Need
1/4 tsp. psyllium fiber powder
Canned cat food
Psyllium fiber cat tablets (optional)
High-fiber dry cat food (optional)
Measure out the amount of fiber you wish to start your cat out on. You should not give your cat the full dose of fiber the first time, as this can cause gas pains and stomach upset, according to the Cat Health Guide. Instead, gradually increase the dosage over the period of a week until you reach 1/4 tsp. If you cannot find a psyllium fiber powder for cats, you can use Metamucil or something similar that contains psyllium fiber husks.
Sprinkle the fiber into canned cat food and mix well. You can also purchase psyllium fiber powder for cats that comes in the form of a tablet. You can give these to your cat as a treat, or crush them and mix with your cat's canned food. Cat psyllium fiber supplements also contain other ingredients that help reduce hair balls.
Feed your cat the canned cat food with added psyllium fiber powder. If your cat won't eat the food, try heating it in the microwave for 5 to 8 seconds. Heating intensifies the food's scent, making it more appetizing to your cat. If your cat refuses to eat canned cat food (for example, a cat used to a dry food diet), feed them a dry cat food formulated with psyllium fiber to treat hair balls.
Give each cat a dose of psyllium fiber in their own dishes, if you're feeding multiple cats. Watch your cats closely to ensure that each eats only its own food and thus does not ingest more fiber than it should.
Reduce the amount of fiber you give your cat if you notice they develop very loose stools.